TMCA And Servant Leadership
TMCA has been teaching the principles of servant leadership since 1976 when our co-founder, Dr. Ann McGee-Cooper began a partnership with TDIndustries to develop servant-leaders at all levels of the organization. Introduced to the "orange book,"The Servant As Leader by Jack Lowe, Sr., Ann developed curriculum to teach Partners at TDIndustries the concept of servant leadership in an interactive format. In 1979, Ann met Duane Trammell and they began a business in the early 80's, teaching the skills of servant leadership. Later, Ann had the opportunity to meet Robert Greenleaf and be mentored by him in the last decade of his life.
Today, TMCA, Inc. is involved in Servant Leadership Development in these ways:
TMCA, Inc. offers three comprehensive servant leadership development tracks for executives, mid-level managers, and individual contributors in organizations:
Servant Leadership Fundamental Series is 48 hours of classroom instruction and six hours of individual coaching
Servant Leadership Intermediate Series is 48 hours of classroom instruction and six hours of individual coaching.
Servant Leadership Advanced Series is 48 hours of classroom instruction and six hours of individual coaching.

Four Half-Day learning experiences designed for all levels of an organization.
Intro to Servant Leadership
Participants are introduced to servant leadership through a community-building activity, six key traits, and what they look like in the work place.
Intro to Servant Leadership in Spanish
Now EVERYONE in your organization can have access to servant leadership. The class uses cultural traditions to examine leadership skills, teaching through stories and participants' experiences.
Servant Leadership for Supervisors
When moving from being an individual contributor to a supervisor, responsibilities change. Class content covers such skills as delegating work, creating accountability, and coaching for effectiveness.
Servant Leadership in Practice
This course is designed to apply concepts of servant leadership to real work situations. The emphasis is on giving and receiving good feedback to improve performance.
There are three notebooks with four learning modules in each notebook designed for leaders or instructors who want to explore servant leadership with their teams. Notebooks include:
Foundations
Skills & Processess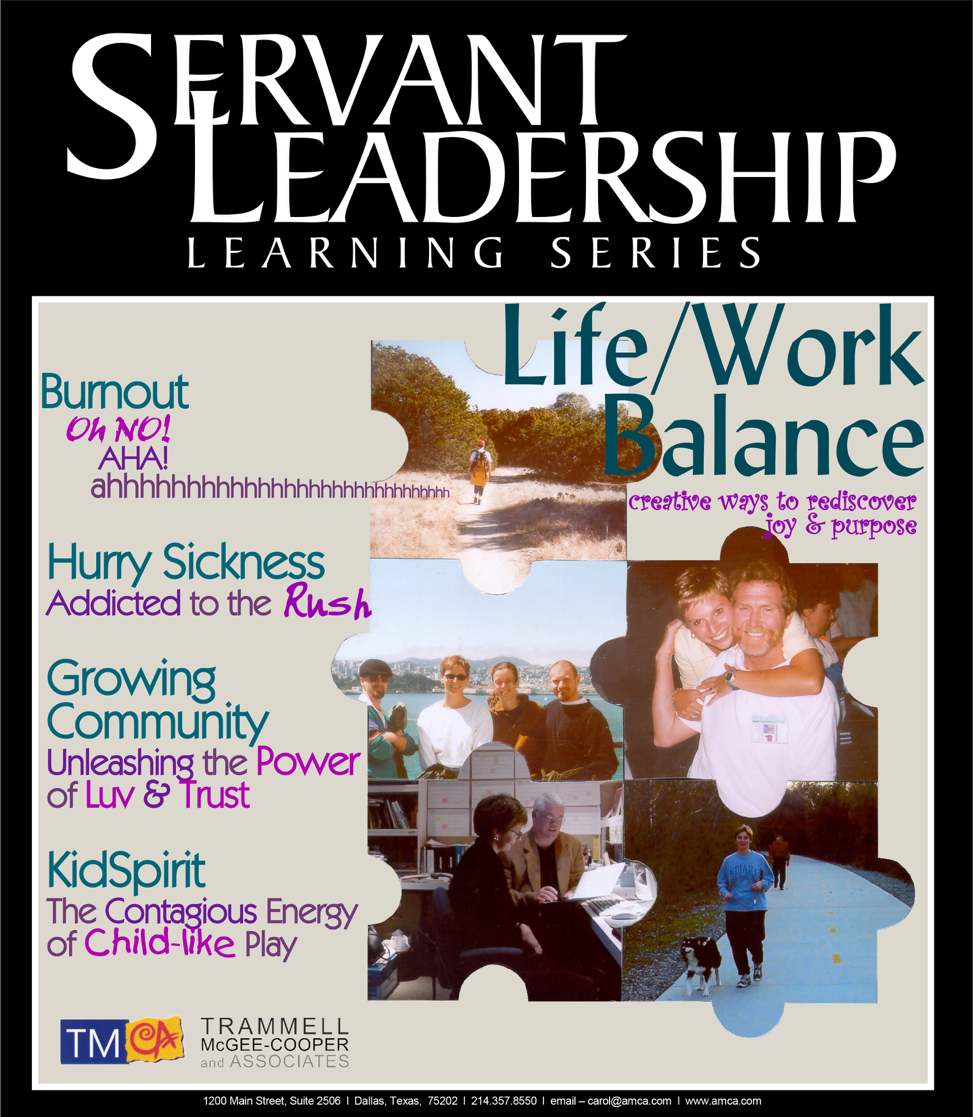 Life/Work Balance
Servant Leadership learning communities®
The Servant Leadership Learning Community® (SLLC®) is a forum of leaders from organizations with a long-term commitment to practice servant leadership and grow authentic learning communities. SLLC® meets three times a year to learn new skills and share best practices. Membership is limited to active Clients and Partner Organizations. Content of the meetings is shared on our website.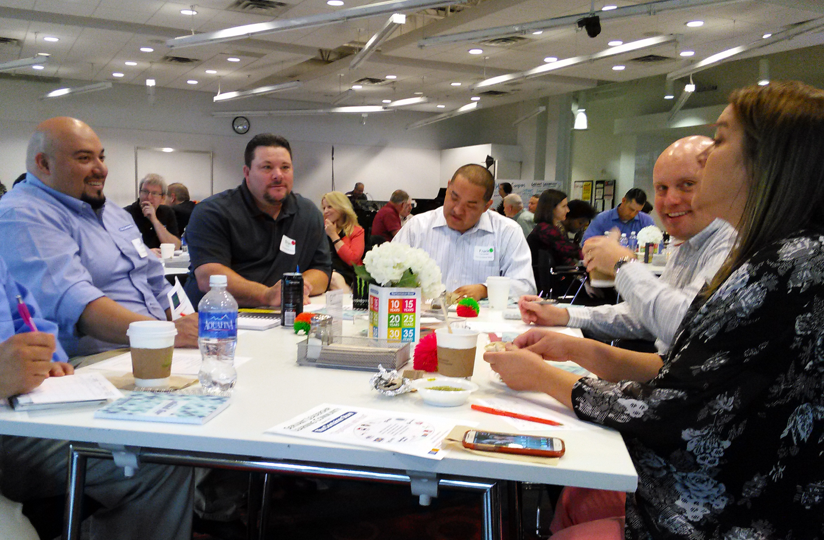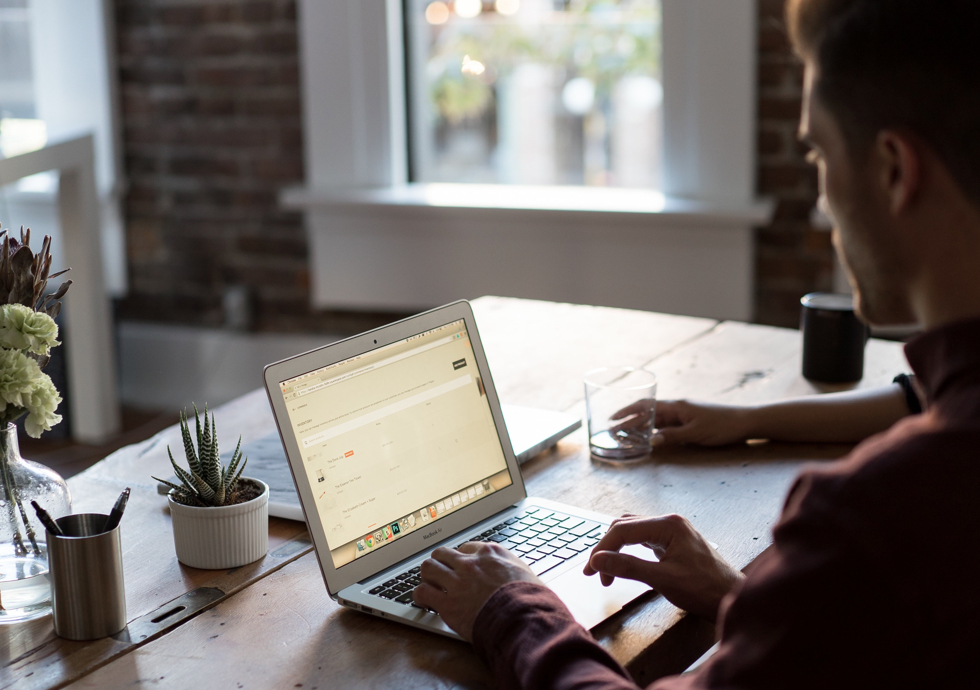 The Virtual Servant Leadership Learning Community® is a six-month program led by TMCA, Inc. Partner and Professor, Dr. Deborah Welch, along with Dr. Virginia Gilmore, and Duane Trammell. Through a series of nine telecircle 90-minutes calls, participants take part in a supportive network of professionals to learn tools and coaching practices to lead in a more meaningful way, based on the principles of servant leadership.
TMCA has been a supporter of the Robert K. Greenleaf Center for Servant Leadership since its inception in 1985. As an on-going part of TMCA, Inc.'s learning and development in servant leadership, we participate, share our own research, and encourage our Clients to support the Greenleaf Center. Information can be found at www.greenleaf.org.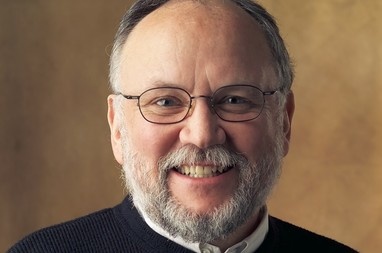 "I don't like requiring things, because I don't like rules, but at Starbucks, I strongly encourage reading a little orange pamphlet called The Servant As Leader, by Robert Greenleaf. It's a short treatise on the notion that the person who is servant of all is the most capable leader."
– Howard Behar, former president, Starbucks