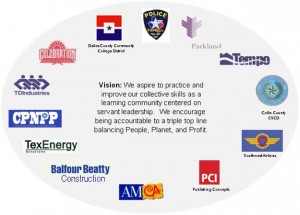 In the years that followed, we were deluged with organizations wanting our help with servant leadership.  At the same time, we were actively engaged in the Society for Organizational Learning (SoL), an international consortium started by Peter Senge and colleagues, encouraging the formation of localized learning communities to put SoL's mission and guiding principles into practice.
Challenging ourselves to find a creative way to support local servant-led organizations, as well as contribute to SoL, we invited several leaders to gather together four times a year to create a forum for learning about and growing leaderful cultures that actively practiced the five disciplines of a learning community based on Senge's pivotal book, The Fifth Discipline.
Governance has been by consensus, with Members contributing topics and resources for the quarterly meetings.  Today, the SLLC includes 13 Member organizations: TDIndustries, Southwest Airlines, Parkland Hospital, Coppell Police Department, Balfour Beatty Construction, Dallas County Community College District, Tempo Mechanical Services, TexEnergy Solutions, Celebration Restaurant, Collin County Community Supervision and Corrections Department, Luminant Power, Comanche Peak Nuclear Power Plant, and Trammell McGee-Cooper and Associates.