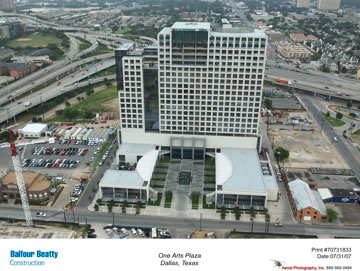 The Dallas Arts District is a 19-block, 68.4-acre neighborhood in the northeast part of Downtown Dallas that composes the largest arts district in the country. Anchoring the northernmost end of the district is One Arts Plaza, a $95 million, 24-story multi-use structure combining residences (64 luxury condominiums), restaurants, cafes, offices and retail (35,000 square feet).  Its vision:
"By the unification of architecture, sculpture, and painting, a new reality will be created."
– Piet Mondrian
To achieve this vision, developer Lucy Billingsley hired Centex (now Balfour Beatty) Construction to oversee the project.  Construction manager Jeff Parsons brought in Trammell McGee-Cooper & Associates, Inc. to design and facilitate a partner alignment process with key players on the team.
Building a High Performance Team through Servant Leadership
Large, complex construction projects like One Arts Plaza depend on bringing together a wide variety of talent into a high-trust team. One of Trammell McGee-Cooper and Associates' most successful applications of growing such leaderful teams has been to design and facilitate one-day Partnering Alignments early in the project. AMCA had partnered with Centex Construction (the GC) since 2002. We brought to the process a highly-recognized reputation for coaching and growing leaderful teams. Centex had invested significant time and money to grow their top leaders' skills for whole-brained teaming based on servant leadership. After practicing these skills internally, they were ready to integrate these on a major new construction project.
Partnering Alignments are creative, practical forums for growing trust among specialists and technical experts coming together for the first time as a team. Just getting the right talent isn't enough to insure success. This diverse talent comes from diverse work cultures, with a very high likelihood of miscommunication, internal silos, and competing agendas.
At One Arts Plaza, each stakeholder had critical goals to achieve in this project. For the owner, Billingsley Company, it was critical to back $7 Million out of the budget. Also meeting the schedule was essential to create cash flow from the timely sale of 64 condominiums. Our goal was to bring the key players together to build trust, learn how to collaborate effectively, anticipate and prevent potential problems, and create a strategy for productivity through high performance teaming. The take away would be a mutual Covenant defining how they would team to achieve their vision.
The Objective of the alignment was to engage the team in a supportive forum in order to:
Promote teamwork, learn more about one another, and grow mutual trust.
Learn to achieve synergy as one team building strength through difference.
Improve the capacity for creative solutions to challenges brought forth by the team.
Think strategically about future issues impacting the project.
Learn successful ways to resolve conflict.
Identify and resolve key challenges.
Significantly improve communication skills.
Prior to the first session, Dr. Ann McGee-Cooper interviewed selected participants to gain a solid understanding of key issues, concerns, potential barriers, and challenges. We also used the Hermann Brain Dominance Instrument (HBDI) to learn the strengths and potential blind spots of each key team member. Then we looked at how these would impact the team's ability to solve problems, communicate, and perform under pressure.
After setting ground rules, we then challenged team members to solve a simple puzzle that illustrates the power of blocking assumptions. Next, we created a shared vision for the project. If the best were to happen, what would that be? By fast forwarding our imaginations into the future, a clear collective description was detailed out. After lunch we learned how to get beyond defensive debate and begin practicing the skills of generative dialogue. We focused on anticipating potential barriers to best possible outcomes and finding ways to prevent these barriers. Finally, we create a Shared Covenant describing how we promised to team through all phases of the project.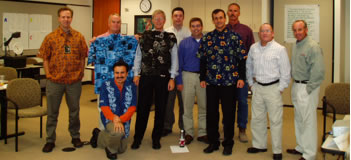 "Reflecting back on how we are using what we created in our team alignment on October 6, 2005, three of the most helpful processes we put in place were agreeing on ground rules for our team meetings, creating a shared vision of best possible outcomes from this project for each stakeholder, and committing to a Covenant of how we promised to team and collaborate.  This improved our capacity to support each other and collaborate almost immediately.
"The spirit of how we communicated and teamed improved significantly.  We could see an improvement in efficiency, trust and teamwork almost immediately. The HBDI work helped us get a better understanding of ourselves and others at a deeper level.  As a result we had more empathy and could support each other more effectively.
"We worked hard to replace negative humor with positive, inclusive humor. Another advantage from the Partnering Alignment was the work we did to identify and then use dialogue to get out in front of potential barriers. Just by getting clear about what patterns could sabotage this job made us all more accountable for our part in each potential problem. Now we help each other work through these challenges and, for the most part, we have become a high performing team. Probably the most important thing was working together to create our Ground Rules.  We always have had a good sense of humor but there are times when there was no laughing. But we now have skills to work through the most contentious issues and we do.
"One significant team accomplishment is that we have been able to back $5 MM of a projected $7 MM out of the budget. All players have been willing to make concessions and we all agree that the primary vision of the project is being met."
– Jeff Parsons, Senior Project Manager and Sam Moses, Superintendent