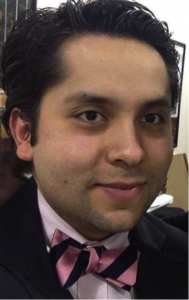 Luis Fernando Durán-Aparicio serves as Director of Client Services for TMCA, Inc. He has a deep commitment to high quality service, the ability to communicate warmly and diplomatically, creativity and intuition in problem solving, and the ability to develop rapport with and lend support to people from diverse socio-economic and cultural backgrounds.
He has been teaching servant leadership classes for TMCA, Inc. for almost four years and is working with our International Partner in Amsterdam to develop online, virtual servant leadership curriculum that can be accessed from anywhere in the world. Luis launched the first ever servant leadership class in Spanish for TMCA Clients in January of 2014.
Graduating with honors, Luis went on to pursue advanced study at Southwestern College, N.C. and the Universidad La Salle in Mexico City. In business, he has worked in food service management. In translation and interpretation services, Luis has worked as a Spanish tutor, a translator for El Noticiero (Franklin Press), translating documents for Dallas County and other Dallas organizations, and as an interpreter for AIDS Interfaith Network. In education/teaching, Luis has developed programming and delivered instruction, educating people about HIV/AIDS in public and private arenas including the Mexican Consulate, WIC, Parole Offices, and other areas of outreach.
Luis has a keen interest in health and mind/body work. He is dedicated to serving the community and is a certified yoga instructor, providing chair yoga to senior Citizens with Parkinson Disease. He also was honored to serve on the Mayor's Multicultural Task Force of Sylva, North Carolina. Luis enjoys and is experienced in using technology to bring cutting-edge techniques to organizations. His vision is to unite mind/body/spirit approaches to learning to help organizations increase performance and well-being.
Luis has co-authored, translated, and is teaching a Servant Leadership One class in Spanish in partnership with TDIndustries.
Luis is married to Susan and has two children, Zara, age nine and Luis, age five. Luis adds a dynamic and youthful dimension to the TMCA, Inc. team, bringing a millennium generation perspective enhanced by a great work ethic.
Contact Luis »