Trammell McGee-Cooper and Associates, Incorporated has gone through several evolutions.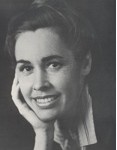 Founder, Dr. Ann McGee-Cooper first worked as a lone consultant under the name of Ann McGee as a sole proprietor.  Her clients included businesses, governmental agencies, non-profits and many educational institutions such as public schools and universities.
In 1982, Ann filed a DBA under the name of McGee-Cooper Enterprises, and added one part-time employee to help with bookkeeping and administrative assistant duties.  It was at this time that her first book was published, Building Brain Power.  In the same year, Ann then invited Duane Trammell, to work as an independent contractor, representing Building Brain Power and selling to bookstores, conferences, and educational institutions.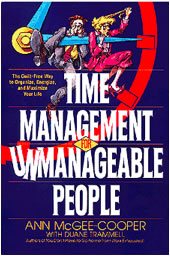 In 1983, Ann invited Duane Trammell to work with her on a new book Time Management for Unmanageable People that was published first by McGee-Cooper Enterprises.  Time Management for Unmanageable People had three original printings, 1983, 1984, and 1985.  Also in 1983, Duane co-taught with Ann at the University of Texas at Dallas that started a collaboration which soon developed into a business partnership.
In 1984, Duane was honored as DISD Teacher of the Year, transitioned from DISD and helped Ann create a plan for a new consulting business. Additional staff was hired.  Because Ann wanted to create a company with several colleagues creating a shared vision, the name of the company was changed from McGee-Cooper Enterprises to Ann McGee-Cooper and Associates.
On July 26, 1986, Ann McGee-Cooper and Associates became a Texas Corporation, with the name, Ann McGee-Cooper and Associates, Incorporated.
In December 2015, Ann McGee-Cooper and Associates became Trammell McGee-Cooper and Associates.
Through the years, TMCA, Inc. has served many major companies, working with every level of management.  Companies served include TDIndustries, Luminant (formerly TXU and Texas Utilities), Fluor Daniel, AT&T, Brown and Root, Halliburton, Bechtel, Stone and Webster, American Ref-Fuel, EDS, Centex, Parkland Health and Hospitals System, Baylor Medical Center, Southwest Airlines, General Electric, The United States Naval Weapons Center, the United States Environmental Protection Agency, the United States Central Intelligence Agency, Lucent Technologies, the FDIC, Fannie Mae, the Prudential, and many others.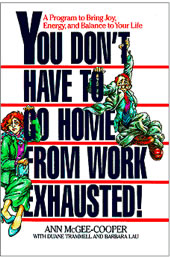 In 1990, TMCA, Inc. created a publishing entity, Bowen & Rogers, and published You Don't Have to Go Home from Work Exhausted! with the help of Bard Press from Austin, Texas.  With the sales success, a bidding war was held for New York Publishing Houses, and Bantam Books bought the rights to publish a trade paperback of the same title.  The Bantam edition of You Don't Have to Go Home from Work Exhausted! debuted in October, 1992, and was followed with the publication of Time Management for Unmanageable People in 1993. As of this date, over 100,000 copies of You Don't Have to Go Home from Work Exhausted! have been sold and translated into four languages, and 60,000 copies of Time Management for Unmanageable People have been sold.
In 1994, TMCA, Inc. made a conscious decision to reorganize and reduce the company to six Partner/Employees to create a specialized, boutique consulting business.  By having fewer Employees and servicing fewer Clients, TMCA could focus more intently on Clients committed to long-term culture transformation.
In December, 2001, Duane Trammell became Executive Vice-President of the Corporation and Board Secretary.  Dr. Ann McGee-Cooper is President of the Corporation.
In 2003 the company adopted the following vision:  We create extraordinary lives and organizations through self-transformation and servant leadership; unleashing energy, creativity, and spirit. Company values are:  Enthusiasm & Calling; Servant Leadership; Authenticity; INTERdependence; Life/Work Balance; Growing Personal and Team Genius; and Sustainability.
In 2007 the company reworked the vision, mission, and values to merge them all into AMCA Essentials. "We co-create extraordinary lives, leaders, teams, service, and results."   Our vision is to inspire our Clients through our role model; to claim bold dreams through whole-brained synergy.