By Duane Trammell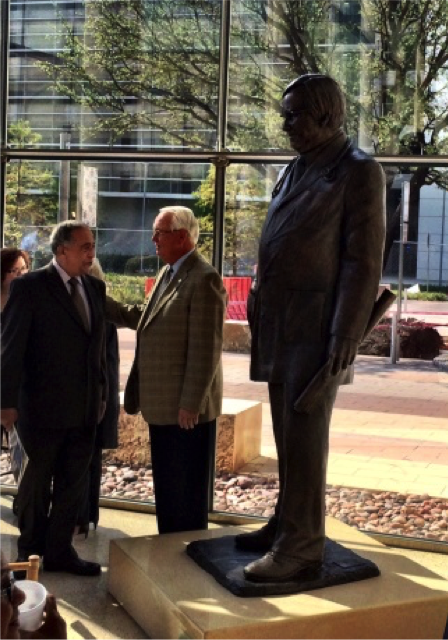 On August 14, 2015, I attended the unveiling dedication of the Dr. Ron Anderson Statue at the new Parkland Hospital.
It was 10:00 in the morning. The sunlight filled the atrium lobby with goodness. With so many problems and negative forces at work in the world, there are moments when sunlight and goodness prevail. Sunlight was everywhere this morning—it shone on the makeshift stage; it shone on the heads of all the people seated in the audience; it shone on the bronze statue of Dr. Anderson. There are saints that walk among us, and Dr. Ron Anderson was one of those. He devoted his life to making sure people with little or no money had access to medical care. He turned down an invitation from President Bill Clinton to be Surgeon General of the United States because he wanted to continue his work at Parkland Hospital to care for the indigent. In his lifetime, he did more for "the least among us" in healthcare than anyone I know. In the '80s, he spent an afternoon driving around Dallas with my husband, Steven Pace, who at that time was the Manager of the PWA (People With AIDS) House, looking for hospice care for people dying with AIDS. It was hard to find resources and even funeral homes that would cremate. But that is the kind of caring person Ron Anderson was…not too busy to help a fellow social worker find resources.
Several years ago, Ann and I started a leadership development series at Parkland focused on servant leadership. Dr. Ron Anderson was the first to attend. There is a photo that hangs in my office of the two of us that is one of my most prized possessions. It is daily reminder to me of a role model of a life that has made a difference in the lives of thousands.
Today, the sun shines brightly in memory of a saint.